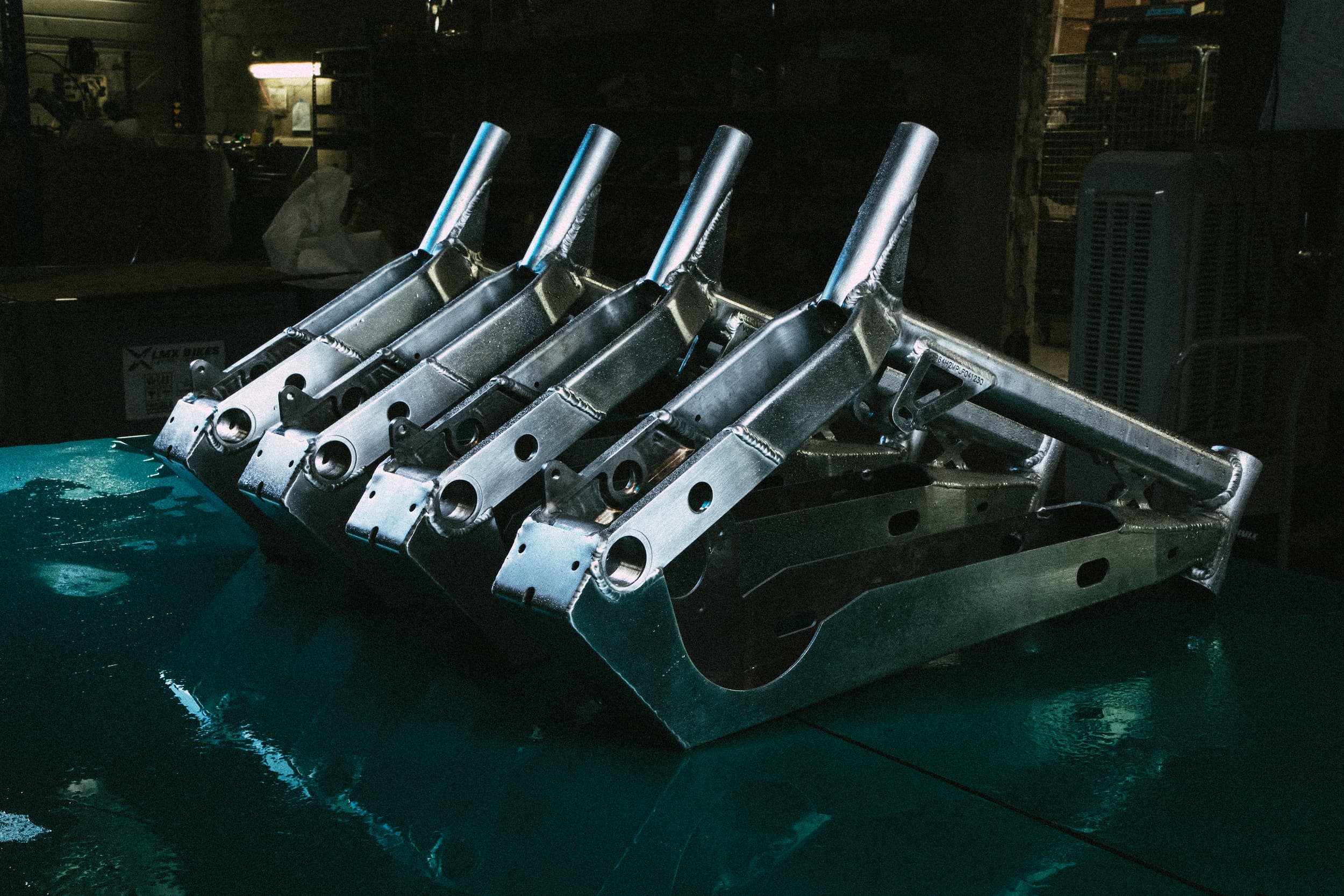 LMX 64 frames : French manufacturing and handmade
Today we are going to talk about one of LMX's greatest pride: the local manufacture of frames for our speed bikes. All the steps used to design these frames are done as much as possible at our workshop or in partnership with companies in the region. Indeed, the LMX 64 frames are designed, manufactured, welded and assembled in Isère, in the heart of France.
This control of the entire manufacturing process is essential to distill our know-how and expertise in our LMXs.
The frame being an essential element of the speed bike, it was very important for us to design it according to our own specificities in order to integrate the engine as well as possible and to ensure consistency between constraints and technical ambitions. All the critical stages in the manufacture of our frames are tracked by individual quality sheets, which will follow our frames and swingarms throughout their lifecycle.
The answer to this question is part of the core philosophy of LMX Bikes. Indeed, we want to offer high quality, resistant and durable bikes. Our frames are made of 6061-T6 aluminum. It is a material used, among other things, in aeronautics.
One of the main advantages of this aluminum is its high resistance to corrosion, stress and fatigue. LMXs can therefore withstand drops and withstand shocks.
Aluminum is also an infinitely recyclable material, unlike carbon. In addition to lasting a very long time, LMX frames can be recycled at the end of your vehicle's life. This is a significant point in the choice of materials because we want as much as possible to combine pleasure with responsibility.
The manufacturing process
1. Design and manufacture
The prototype design of machined parts and tubes is done in-house according to the design specifications. The tubes and machined parts are then made to measure by subcontracting after an in-house prototype phase.
At the same time, the sheets are cut in Meyzieu (1) to then be sent to our workshop in Frontonas (1). These parts are then heated to make them malleable, then cold folded in our workshop to give them their final shape before the welding phase.
All parts of the frame are entrusted to an independent welder, specializing in welding aluminum. Its expertise and know-how guarantee quality work and therefore robust frameworks. Indeed, aluminum welding is a complex technique requiring an alternating voltage and a special manual procedure.
After the frames are welded, a visual inspection of all welds is performed before proceeding to the heat treatment stage.
Then comes the heat treatment step, which is also carried out in our workshop. This is a decisive step in the manufacturing process because it gives aluminum its ultimate strength. The frames, after being welded, are heated in an oven at 520°C for one hour and then immersed in water, this is the quenching step or T4. This will be used to normalize the internal stresses after welding. It is also after this step that the alignment of the frames is checked and corrected on a specific assembly.
They are then heated a second time at 190°C for 2 hours to reach maximum resistance. At this stage, called T6, the frames become so tough that they cannot be corrected for faults. The advantage of aluminum is that a defective frame can be recycled and therefore is not a loss in itself.
Some manipulations are still done by hand on these frames such as the threads or the bore of the seat tube. Performing these operations last ensures that these surfaces will no longer move in order to have the best possible precision.
4. Preparation for painting
Finally, our workshop technicians will sand and manually clean the frames to prepare them for painting or anodizing. They need to be clean and free of grease to proceed to the last step.
5. Paint or anodizing finish
For the final touch, the frames can be treated in different places depending on the expected finishes:
First, we offer a powder coating paint coating. This extremely strong paint is applied in two coats with an oven pass for each coat. For this, we send executives to a specialized company in Saint Marcellin (2).
For limited or luxury editions of our bikes, we offer a gray or champagne anodization treatment. This step is carried out by a company based in Annecy (3).